This is a fast follow on from the last post Kong Toys For Dogs, but I just noticed this and so simply had to post it here. You'll see from the screen shot below that this blog, For Dogs has actually made it onto Google's page one for its main search term, "for dogs".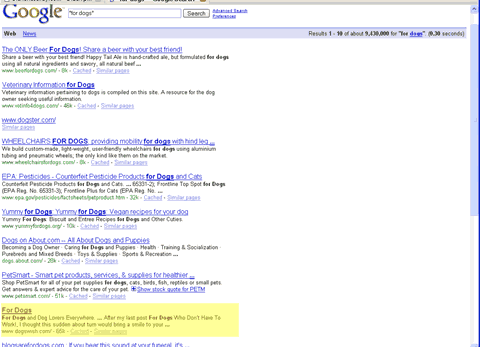 For a bigger screenshot, just click on the image
That's really great news for this place as I haven't really promoted it very hard at all, just kept up with it and let plenty of people know about it. Top top it all, you might notice that we are beating over nine million competing pages for this page one spot and on the main data centre for the US, so I'm quite proud of this achievement.
Well, hopefully that'll give the strange dog Ronnie and his wild step sister Daisy a lift in their popularity, as well as raise the memory of Chelsea to new heights!