Wot are you looking at, pal?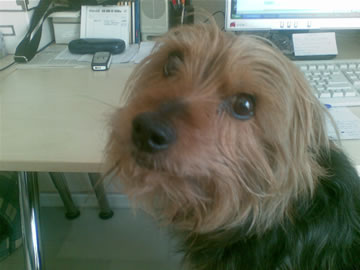 Even a strange dog like Ronnie likes to get in on the action every now and again. After my last post For Dogs Who Don't Have To Work!, I thought this sudden about turn would bring a smile to your faces… and here he is, on my lap pretending to be writing his own blog post!
Maybe he was getting bored laying on the sofa with Daisy watching me toil away and decided to do his bit! Either way, I couldn't resist the chance to snap him on my phone, which was handy by the side of me.
Ronnie the Strange Dog obliged with this fantastic pose which really says it all!